RPP Breaks Ground on Awesome Renovations and Expansion Project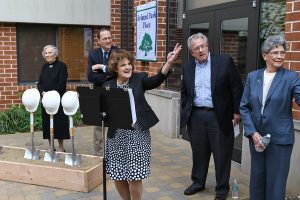 Excitement is in the air at Roland Park Place as residents, staff and community leaders attended the groundbreaking celebration to launch the start of a wonderful renovations and expansion project. This multi-phased redevelopment project began the week of May 8th.
Phase One includes the extensive renovation of the original building's common spaces including the addition of a 4,140 square foot arts and education center. Phase One is expected to cost approximately $30 million and take approximately 23 months to complete. The second phase is anticipated to begin in 2019 with the construction of sixty new apartments and a 29,000 square foot, 146-space parking garage.
As the only Life Plan Community in Baltimore City, RPP is perfectly positioned to meet the growing number of residents wanting to stay within the city where access to performing arts, films, museums, galleries and fine dining are just minutes away. Additionally, more families are choosing to remain in the city and their parents are eager to stay close to their grandchildren and the conveniences of urban living.
The considerable renovations and changes involved in Phase One offer a number of building systems upgrades and enhancements to the common spaces of the community which include:
26 new private rooms dedicated to memory support care along with expanded memory support programs located within two household environments
Sixteen room household for short term rehabilitation
Updating of fifteen assisted living apartments
Renovation and updating of 28 private, long term care rooms
Extensive renovations and additions to the community's dining venues including coffee bar, bistro, café, pub and private dining room with executive chef prepared meals
State-of-the-art geothermal heating and cooling system
The addition of a 4,140 square-foot arts and education center
Reconfiguration of the main lobby.
Phase Two will include:
The addition of a structured parking garage to accommodate parking for residents and employees
Addition of 60 new independent living apartments, ranging in size from 822 square-feet to 1,772 square-feet to meet the demand for larger living spaces
Use of premium finishes throughout apartments
2,500 square-foot courtyard terrace garden
New landscaping to take better advantage of the outdoor spaces
New spa and salon
Penthouse club room for private resident parties and community events with premium finishes and floor to ceiling windows with sweeping panoramic views of the city.
"The future of Roland Park Place is upon us and we must evolve to meet the needs of our future residents," says RPP Board Chair Campbell Killefer. "Baby-boomers will be our next generation of residents. They are more active, more social and have no desire to leave the city and its many cultural and entertainment options. This expansion allows so many more Baltimoreans the chance to stay closer to the things that matter most including their families."
"The most often shared remarks we hear from residents are 'we should have moved here sooner' and 'moving to Roland Park Place was the best gift we could give our children," RPP President Terry Snyder adds, "We want to make sure these accolades continue for generations to come."
"As a resident, I'm thrilled about the improvements coming to Roland Park Place," says Doris Zimmerman, current Roland Park Place resident, and Chair of the Residents' Association. "I've loved calling Roland Park Place my home for 14 years, but what continues to impress me is how they constantly look for ways to make things even better. They never sit still or become complacent and seem to know what we'd like to see before we do!"
About Roland Park Place: (RPP) is the only full-service, accredited nonprofit continuing care retirement community in Baltimore City and a leader in aging services for older adults and their families. RPP offers premier access to city life coupled with the comfort and convenience of suburban living – all in a beautiful, landscaped, park-like setting with breathtaking city skyline views.
You can see more pictures and other great stories about RPP on our Facebook page at https://www.facebook.com/rolandparkplace