Green never looked so good.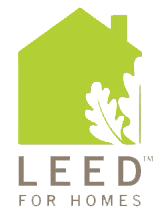 As part of our promise to provide residents with exceptional senior living, Roland Park Place now proudly offers LEED Silver-Certified apartments right here on our campus in Baltimore.
What is a LEED-Certified home?
Developed in 1993 by the U.S. Green Building Council, the Leadership in Energy and Environmental Design standards program was founded to create more sustainable construction practices across the country.
As the most well-known sustainable landscaping system used worldwide, this prestigious award is meant to honor and recognize the architectural teams that go above and beyond in ensuring that buildings today are created with the future in mind. The nationally accepted standard for construction today, being a LEED-certified home focuses on improving performance across a number of key areas, including sustainability and innovation in:
Location and transportation
Water efficiency
Energy and atmosphere
Materials and resources
Indoor environmental quality
What LEED-Certification looks like at Roland Park Place
Following the LEED standard for green building construction, we've gone above and beyond to ensure our residents are living comfortably while also doing our part to conserve the natural resources our planet provides us with. So what does that mean for you, the resident?
It means our homes successfully reduce energy, water, and waste by 30% or more on a daily basis. It means that the materials we used to build our homes are recognizably healthier for both workers and residents. And most importantly, it means that our homes are verified by a third-party to ensure our green designs were implemented correctly for long-term sustainability and building performance.
Here are just some of the sustainable features we've added in the design of our homes to be sustainable for generations to come:
Energy-efficient lighting and appliances (including lighting controls)
Grade 1 insulation using low-emitting sealants, paints, primers and insulation material
Native drought-tolerant plants located across campus
Durable indoor environment features that promote pest prevention
A continuous fresh air supply to units and common areas
On-site stormwater management, as well as green roofs and protected water sources
Efficient irrigation practices that protect our residents, plants, and buildings from harm