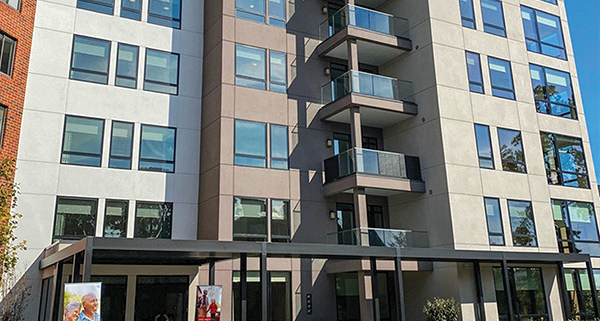 Moving into Roland Park Place can expand your social circle and provide opportunities for you to follow your hobbies and passions. We took some time to talk with one of our Expansion residents, Dr. Roberts, to ask him what he does during the week at Roland Park Place.

Dr. Roberts is an early riser and likes to have his breakfast in the club room with a complimentary coffee from the specialty coffee maker in the Club Room. When the newspapers are delivered, he gets caught up on local and national news before getting ready for his exercise class. Group exercise classes are a great way for him to spend time with other residents and stay active.

Dr. Roberts is a leader in many different resident groups. Every Monday, you will find Dr. Roberts in the poetry class where he participates in group discussions on ancient to modern poetry. He is also the 8th Floor Representative and shares the needs and ideas of all that live on the 8th floor. A passion for art has led him to join the Committee for Fine Arts where he works on acquiring new art for the Roland Park Place art collection.

While gardening is sometimes a solo activity, the large number of gardeners means that Dr. Roberts has others to share new gardening ideas and plans with. Keep an eye out for his beautiful summer flowers that will be blooming in a few months!

Dinner is time for him to spend time with his close friends over good food and good wine. The Landing is where you will find Dr. Roberts most nights and on Wednesdays he attends the music concert in the Ars and Education Center.
https://rolandparkplace.org/wp-content/uploads/2022/03/cta-333.jpg
383
600
Eleanor Weir
https://rolandparkplace.org/wp-content/uploads/2021/06/logo-2021.png
Eleanor Weir
2022-05-13 20:15:37
2023-04-06 16:41:08
Life in the Grand Expansion with Dr. Roberts