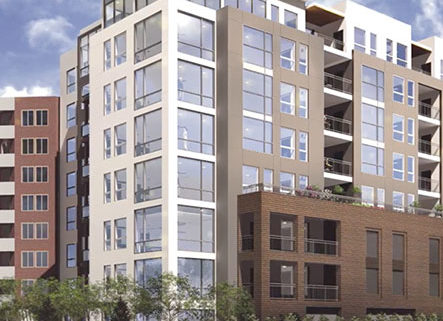 In 2020, senior living in Baltimore, MD will be enhanced with a state-of-the-art, luxurious new community. This is because of "The Grand Expansion," which is underway as we speak at Roland Park Place—the metropolitan senior living community that is once again setting the standard for Maryland retirement communities. During The Grand Expansion, Roland Park Place will add 58 new apartments in an eight-story tower. New residents will enjoy beautiful, modern homes while living in a vibrant, tight-knit community which, now in its fourth decade of existence, is just getting started. Beyond new living spaces, the Roland Park Place expansion will also feature a new dining venue, arts center, indoor parking, garden, salon and spa, and club room for private parties. Read on to learn all you need to know about The Grand Expansion—and how to take the next steps if you think Roland Park Place might be
the
senior living community for you or your loved ones.
Grand Plans
One of the primary aspects of The Grand Expansion is the choice new residents will have to select a floor plan for their living spaces. With numerous configurations and sizes available, new residents will be able to pick the arrangement that best suits their needs. Would you want one bedroom for your future home, or two? How about balcony space, an open kitchen, a walk-in closet, or a spectacular view? The choice can be yours at Roland Park Place. Time is of the essence, however; a number of the floor plan options have already sold out! Some of the new options include:
The Beechdale and Kittery 1 apartments, which are the only two one-bedroom apartments still available—and even they are almost gone.
The Deepdene apartment, a two-bedroom model on the first and second floors that's ideal for entertaining.
The Hawthorn apartments, which feature ample space and gorgeous master bedrooms.
The Longwood apartment, which has more than 35 feet of balcony space.
This is just a sampling of what you can find. If you're interested in learning more details about these and other floor plan configurations,
visit the new floor plans page
on our website.
Phenomenal Features
Seniors who are about to join the Roland Park Place community will experience the best in Baltimore senior living. Roland Park Place's amenities are second to none, and together they create an enriching, full lifestyle for the community's residents. At RPP, residents can be independent as much as they want, but many residents spend the bulk of their time with their friends and neighbors in the community's numerous social spaces. Take, for example, the Stone Hill Arts Studio—a multi-purpose center designed to help residents express their creative passions. Or the Kraushaar Library, which has a wide range of titles and large print options. Or the Beauty Salon, which offers services for men and women including haircuts and styling, manicures and pedicures, and—through the Fitness and Aquatics Center—therapeutic massage services. These features contribute to the overall well-being of RPP's residents by providing key areas for entertainment, socialization, and mental engagement. Numerous medical studies have shown how important it is for seniors to be physically, socially, and mentally active, and The Grand Expansion will continue Roland Park Place's longstanding tradition of excellence in these areas.
Sterling Services
Any quality CCRC or Life Plan Community offers strong services for its residents—but RPP is not just any CCRC. In addition to the amenities above, Roland Park Place provides 24-hour security for its residents, so peace of mind is a way of life. RPP's receptionists, valets, and security staff are all highly qualified, friendly, and helpful. They can schedule wake-up calls for you, help you with package and grocery delivery, and provide valuable information on things to do in the area. Additionally, Roland Park Place offers on-campus parking for any residents who drive their own vehicles—and valet parking 24 hours a day. Parking costs are factored into residents' monthly fees, so there are no hidden costs, and if it snows during the winter, RPP handles snow removal so residents never have to dig their cars out themselves. Residents enjoy banking services at RPP as well, with a full-service, FDIC-insured, commercial bank branch of The Columbia Bank, open five days a week. There's also an Evergreen Boutique—a private convenience store stocked with useful items—and sedan service transportation to all weekly medical appointments within a 10-mile radius of campus. These services differentiate Roland Park Place from other senior living communities in the Baltimore, MD area, and The Grand Expansion will only serve to increase that distinction.
Want to Experience the Best in Baltimore Senior Living?
If you or your loved ones are considering moving to a senior living community, Roland Park Place has much to offer—especially now that The Grand Expansion is nearing the finish line. For more information, contact Roland Park Place at 410-243-5700, or
visit our website
to learn more. And of course, you are more than welcome to schedule a visit!
https://rolandparkplace.org/wp-content/uploads/2019/01/post-square-rpp-2.jpg
420
443
online
https://rolandparkplace.org/wp-content/uploads/2021/06/logo-2021.png
online
2019-07-02 17:05:26
2019-08-01 15:48:55
Discover The Grand Expansion at Roland Park Place