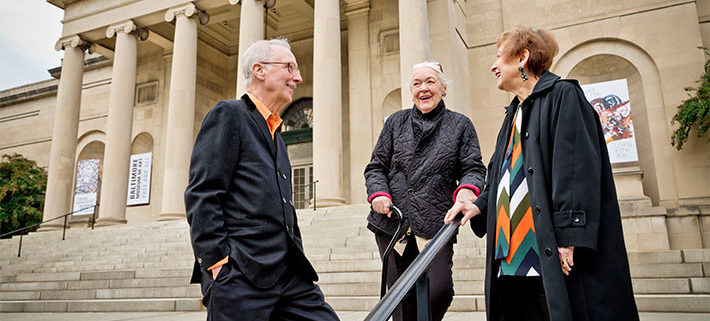 An important part of the Grand Expansion is building on the remarkably rich creative culture in Baltimore City.
A designated Arts and Education Center will host live entertainment and lectures, among other experiences, for Roland Park Place residents.
Current residents already love Baltimore City's diverse arts community, and this new center will open the doors of Roland Park Place to even more community offerings.
Baltimore City is no stranger to arts and education––its offerings are vast and right at the doorstep of Roland Park Place. Baltimore's first and only Continuing Care Retirement Community is built in a ZIP code full of culturally diverse spaces like the world-class Baltimore Museum of Art, the acclaimed Baltimore Symphony, the artsy Station North Arts, and Entertainment District (just to name a few). The city's bustling creative community is constantly expanding and residents of Roland Park Place get to experience it all first hand. Roland Park Place is not looking to bring arts and education to Baltimore City. It is looking to contribute even more to the existing opportunities for art and education within the community. The addition of the 4,140 square foot Arts and Education Center is now complete at Roland Park Place as part of the community's Grand Expansion.  The Arts and Education Center is an important piece in a larger expansion plan that ultimately adds a dramatic eight stories and 58 spacious brand-new residences with a fresh offering of amenities. An updated library and 32-seat, multi-tiered theater for seminars, films and lectures will also expand the cultural experience offered. "The Arts and Education Center is a great new addition because many of our residents here have an intellectual curiosity and spark that never seems to be satisfied," says Roland Park Place President Teresa D. Snyder. Baby boomers will be the next generation of residents at Roland Park Place who will be looking for entertainment and cultural experiences from their senior living community. They're a group who love quality experiences just as much as the next. The planned Arts and Education Center will open up the doors of the Roland Park Place community to Baltimore City's diverse population of thinkers and talent.
The 'Art' of Aging Gracefully
Priorities change when you enter your retirement years. The responsibilities of a career, raising a family and/or running a household are lifted and people have the opportunity to embrace new endeavors that will help them maintain a sense of purpose. More and more, retirees are seeking locations that have a flourishing art and cultural scene. Studies show that embracing new challenges and connections later in life can improve our odds of aging gracefully. The secret to the art of aging may just be art itself. Keeping an aging mind active can help protect its cognitive skills like memory and concentration. A new artistic hobby or class can help keep the mind active and engaged and the new Art and Education Center for seniors will do just that. Staying involved and learning new things alongside others also helps to develop strong social interactions that are shown to be an important factor in maintaining good health and longevity.
Community Keeps us Going
Close friendships have a positive influence––they provide both emotional support and a sense of purpose. Social networks like the ones fostered at Roland Park Place keep us going. We're already proud of the Roland Park Place community. Residents have embraced existing amenities like
Stone Hill Studio
, a multi-functional resident space for individual artists and art classes. Knitting and quilting groups use this space as well to create scarves, mittens, and quilts for those in need in Baltimore. With the new Arts and Education Center, even more opportunities for creative and intellectual endeavors will become possible. Roland Park Place is a warm-hearted community of thinkers, doers, and volunteers making the most of Metropolitan senior living in Baltimore City. The Johns Hopkins University, Loyola College, and the College of Notre Dame each sponsor continuing education classes for retirees. Residents live less than six miles from Downtown Inner Harbor (and all of the culture, amenities, entertainment, and fun that comes with city life).
Learn How to Join This Robust Community
For those who appreciate the advantages of metropolitan senior living in the heart of Charm City, there is no place like the new Roland Park Place. It's an ideal location close to all that the city has to offer, and its Grand Expansion is also playing an important role in offering more to the city itself. To preview the possibilities and learn more about life at the new Roland Park Place, please call 667-219-2111 to schedule your personal appointment today.
https://rolandparkplace.org/wp-content/uploads/2019/02/post-arts-education.jpg
454
710
online
https://rolandparkplace.org/wp-content/uploads/2021/06/logo-2021.png
online
2019-02-15 17:03:07
2019-02-15 17:11:33
Welcoming Arts & Education at Roland Park Place